Improve your balance, strengthen your muscles and reduce your risk of falling using tai ji quan (also known as tai chi) movements in a class that will help you stay mobile and independent.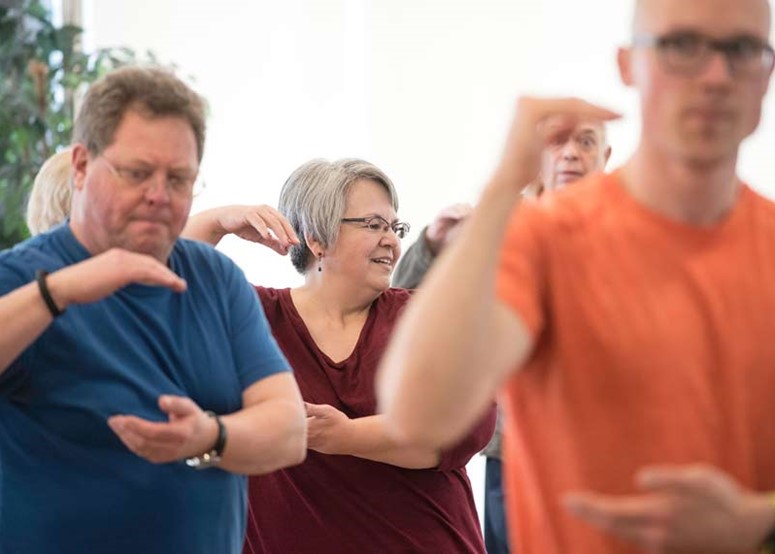 About the class
This twelve-week class meets two or three times a week for one hour. Each session includes warm-up exercises, a mix of tai ji quan forms and brief cool-down exercises. You'll Learn eight tai ji quan forms plus therapeutic variations. Through progressive movements, participants build strength and improve balance as they learn to transition from stability to instability and back again. No prior experience is necessary, and all ability levels are welcome.
Tai Ji Quan: Moving for Better Balance® is an evidence-based fall prevention program developed by Fuzhong Li, Ph.D., Senior Scientist at the Oregon Research Institute.
Dave Fink, Tai Ji Quan instructor, talks about why he loves the class and how it makes a difference in people's lives. It helps people be stronger and maintain their independence.
This is my second time through the program and I would like to keep going. This has be the best group of people. We plan to get together to keep practicing.
— Tai Ji Quan: Moving for Better Balance class participant
Benefits of the class
Build strength and increase postural control and range of motion
Increase awareness of body positioning
Control your center of gravity to prevent falls
Maintain functional capabilities that will help you remain independent
Make rewarding social connections
Who should take the class
This class is for anyone looking for a regular routine of gentle movement. It is particularly suited for people who:
Want to improve strength and mobility
Have had a history of falls or are concerned about falls
Have an abnormal gait or difficulty walking
Have Parkinson's Disease
All Juniper Classes
Prevent Falls
Get Fit
Live Well