Designed for people with who wish to prevent developing type 2 diabetes, the Diabetes Prevention Program is a community-based, lifestyle change program that can cut the risk of diabetes in half.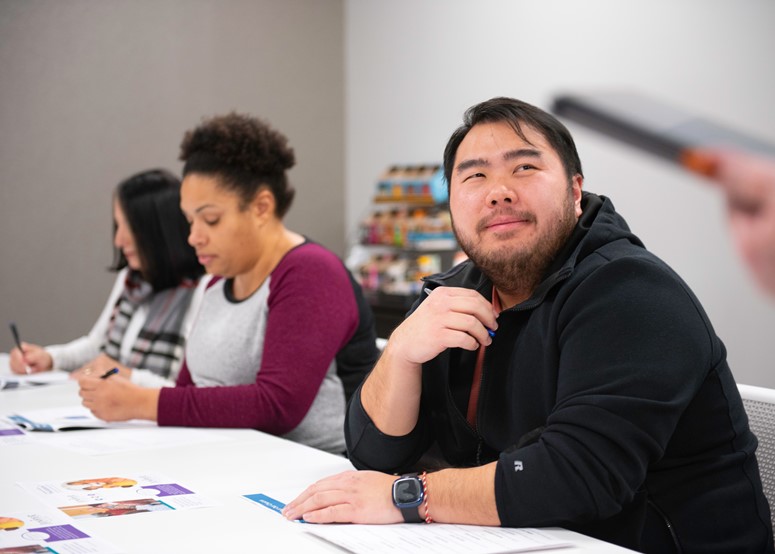 About the class
A trained lifestyle coach will lead each class, covering topics on how to make positive choices for our health. You will learn how to:
Lose body weight
Increase physical activity
Eat healthier
Use practical strategies for staying motivated
Manage stress, solve problems and avoid negative thoughts
You'll be supported in the class by other participants, on similar journeys. Group discussions will help you develop goals and problem-solve together
Diabetes Prevention Program is an evidence-based program developed by the Centers for Disease Control and Prevention.
"The class taught me how to eat and have a healthy lifestyle. To anyone considering the program, just do it. It changes everything."
— Phyllis Wikstrom, Diabetes Prevention Program participant
Benefits of the class
Learn to manage your health in a way that can lower your risk for type 2 diabetes
Learn how to get and stay motivated
Support from other participants and a trained lifestyle coach
Become more involved in your community and with your neighbors
Who should take the class
This class is for people who is motivated to lose weight and live a healthier life. It requires a significant commitment in time but the results could make a major difference in your quality of life.
People with prediabetes and who meet these requirements:
Be 18 years or older.
Have a body mass index (BMI) of 25 or higher (23 or higher if Asian American).
Not be previously diagnosed with type 1 or type 2 diabetes.
Not be pregnant at time of enrollment.
No end-stage renal disease (ESRD)
Never participated in Medicare DPP previously
Meet one of these requirements:
Received a high-risk result (score of 5 or higher) on the Prediabetes Risk Test.
Had a blood test result in the prediabetes range within 12 months of the first session (includes any of these tests and results):

Hemoglobin A1C: 5.7–6.4%.
Fasting plasma glucose: 100–125 mg/dL.
Two-hour plasma glucose (after a 75 g glucose load): 140–199 mg/dL.

Be previously diagnosed with gestational diabetes (allowed for CDC recognition and may be self-reported; not allowed for Medicare DPP participants).
All Juniper Classes
Prevent Falls
Get Fit
Live Well