Kelly Nelson, the event coordinator for the Braham Event Center in Braham, Minnesota, says she is thrilled to offer Juniper classes to her community. "People had been asking for fitness classes and we thought it wasn't possible because there wasn't anyone in town to teach them, but then we found Juniper, which had a solution."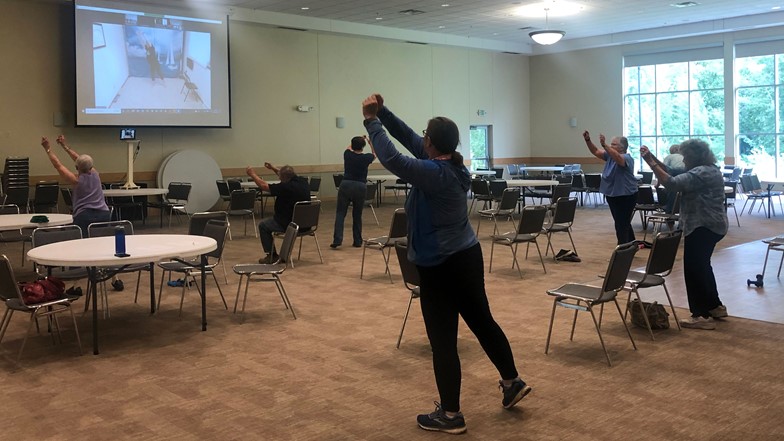 Stay Active and Independent for Life (SAIL) classes are now presented virtually at the Braham Event Center on Mondays, Wednesdays and Fridays inside the event center. "Instead of logging on to Zoom individually from their homes, participants prefer the companionship that comes from gathering together in a community space," explains Kelly. "We log into Zoom, and the instructor appears on a big screen. It's wonderful to be able to offer free classes and as a result, participants are saying they feel more fit."
Stay Active and Independent for Life (SAIL) is a strength, balance and fitness program for adults 65 and older. The class is designed to reduce a participant's risk of falling, with exercises that improve strength, balance and fitness. These exercises can be done seated or standing.  
Braham classes are taught by Alisa Tomette, PhD., a public health educator and trained SAIL instructor. Fondly known as Dr. T., Alisa has made it easy for people to get involved, Kelly noted. "She provided posters promoting the class that we hung up in the event center and around town. She also got our local newspaper to print information on the class. Then she provided registration forms, so people could get signed up."
Darlene Kratt, a SAIL participant, registered for the class because she was starting to get arthritis in her knees and was feeling tightness in her back. "It's a nice way to stretch," she says. "It was the right amount of exercise when I started the class and now I'm working my way up, with small increases each time."
Participants start from either a stated or standing position. Every participant is different. For example, one class member is rebuilding strength after surgery, and another wants to maintain her strength so she can continue to go out dancing. Physical abilities and ages vary among class participants (the oldest is 92), but everyone can socialize, and that's another reason they show up for class.
Darlene will be 70 years old in a few months and knows it's important to work on balance as she ages. "SAIL is good for someone my age. I like the low-impact cardio and I can tell that it's working because I feel a good soreness in my muscles." She also enjoys the social aspect of the class. "It's nice to be with people my age from the local area," she says. "And when I saw that this class is connected to Juniper, as a former aging care specialist, I knew it would be good."
Kelly Nelson says Juniper classes contribute to the synergy of the Braham Event Center, and now, Tai Ji Quan: Moving for Better Balance classes have been added to the schedule. "I'm so happy we found Juniper. Our experience has been really great!"
---
If you would like to find out how you can benefit from Tai Ji Quan: Moving for Better Balance or Stay Active and Independent for Life (SAIL) classes, go to the Juniper website and click on Find Classes.