After leaving the isolation of her assisted living apartment and moving in with her daughter, Joyce Watson of Grand Rapids, Minnesota, and her daughter participated in a Juniper Tai Ji Quan: Moving for Better Balance class.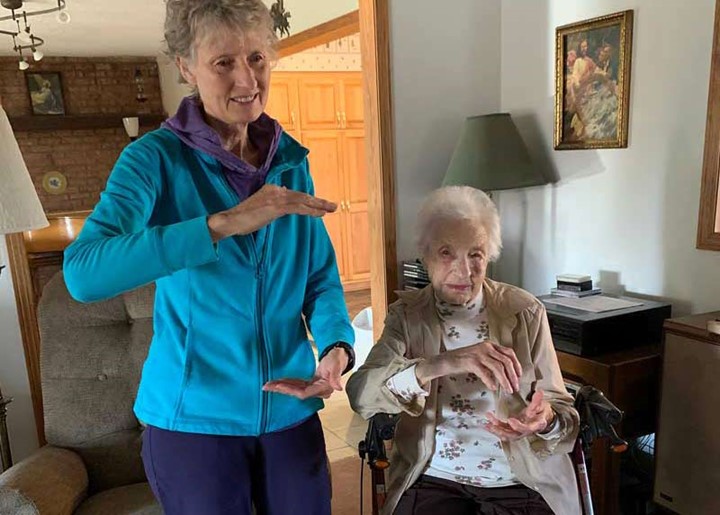 The daily love and care from her family is good, but at age 100, with limited mobility, the separation from friends and activities feels isolating and causes depression for Joyce
After the postponement of classes at the local YMCA, Joyce's daughter, Merry Moody, a retired water treatment business owner, went in search of a way to replace the social connection she and her mother had found there. In the process, she found a Juniper Tai Ji Quan: Moving for Better Balance class, offered via Zoom amid COVID-19. The class was made possible in Grand Rapids by ElderCircle, who's mission is to empower older adults to maintain active living and healthy independence. Merry would have preferred to learn in person but knowing it's not safe to do so right now, she signed them up. She recognized that part of the value of exercising in a group is the social aspect; something that is important to her, and to her mother who needed more social interaction.
Focused time together
Merry and Joyce's Tai Ji Quan class started several weeks ago and continues through November. "It's nice to have a class to attend. It's an appointment and not easy to say no to doing it," said Merry. "We probably wouldn't be doing it if we weren't accountable to one another."
The bi-weekly classes are helping to ease Joyce's loneliness while providing an opportunity for both mother and daughter to build strength and balance. "Balance is important as people age," said Merry. "The class is good for me and for my mom because our brains are stimulated by following new movements, and that's as important as physical balance."
Merry and Joyce had never done Tai Ji prior to taking the class. Joyce turns her walker around and sits on it. She does as much as she can, and she and Merry get to see and interact with people twice a week. Joyce says, "It would be better to do the movements standing up—if I could—but I'm getting something out of it, and I like the mother and daughter time."  Merry adds, "Just listening to the instructor is helpful for Mom because the words register in her brain. And, we are thankful to have something to do during this weird situation."
Healthy living
Merry says Joyce has always been a good role model for healthy living. She walked a lot and tended to a large garden. Merry follows in her footsteps with gardening. In fact, for the past 50 years, the entire family eats a whole-food, plant-based diet with no animal products or refined sugar. Merry is convinced that her mom's longevity is rooted in eating this way, along with good genes. "She's taken really good care of herself and being healthy has been a focus for most of her life," Merry says. "She has always set a good example of eating well and staying fit. In fact, to a point that I may not be able to attain!"
Merry said she doesn't do well mentally if she doesn't exercise and Tai Ji Quan is helping her, amid the challenges of being a caregiver. She adds, "If my mom and I get a chance to take the class in person down the road, it's very possible that we will do it!"
What have Joyce and Merry learned from their Tai Ji Quan class?
To be more mindful and deliberate in their movements
To slow down and not move so quickly
Understanding the impact of shifting their weight and its effect on balance
If you're struggling with social isolation, the National Council on Aging (NCOA) offers these tips:
Do an online workout
Well done Joyce and Mary!
Call a friend or family member you haven't spoken with for a while
Use this time to reconnect.
Host a virtual get together
If you can't meet your friends in person for coffee or lunch, move the gathering online via a group video chat.
Read a book to children online
If you have access to the technology to do it, most parents of young children would welcome it from a grandparent or great grandparent.
Teach others your skills
If you've been waiting to show the world your special talents, now's your chance. Use your phone to create short teaching videos and post these online.
Volunteer online
This is a great way to do good for others right from your home. Options include supporting projects at the United Nations, assisting the Smithsonian Institution or helping people in need at the Crisis Text Line.
Are you interested in learning more about Tai Ji Quan classes? How about a class to help with increased feelings of isolation and stress? Take charge of your health.