Janet Dunbar of Menahga, Minnesota, met Annie Cole, a Juniper wellness engagement specialist, when Annie called Janet to introduce her to Juniper. At the time, Annie didn't know how much Janet needed her call.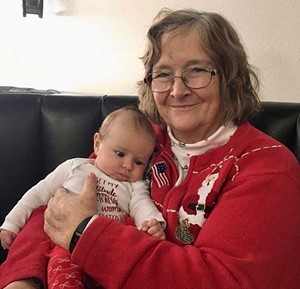 Facing heart surgery in a couple of months, Janet was fearful. "It's something you don't want to admit to your husband and kids," she says. "I was able to tell Annie that I was scared about my surgery, and she encouraged me. I found it comforting."
As someone who is focused on staying healthy, Janet invited Annie to call her back in a few weeks to talk about the Juniper classes. The timing allowed Janet to no longer be on post-surgery blood thinners and be more comfortable exercising. "Annie called me a couple of times after my surgery to check on me," Janet says with happiness in her voice. "She asked if there was anything I needed and encouraged me to keep working on getting well. It's nice to have someone like Annie who cares about me and really listens. I appreciated her calls."
Providing comfort and encouragement is at the core of Juniper's Telephone Reassurance Program. In partnership with Blue Cross Blue Shield, wellness engagement specialists like Annie reach out to members of these health plans across Minnesota who are eligible for emotional support. They introduce them to Juniper classes, and if they'd like, they can choose to receive additional telephone reassurance calls.
Describing Annie as "reassuring," Janet says she could tell right away that she cared. "The more we talked, the better." Annie agrees. "We started talking about Juniper's Living Well with Chronic Conditions and Living Well with Chronic Pain classes, and how they could help her and moved on from there," says Annie. "Janet is great, and I enjoyed my conversations with her."
After eight years of working as a nursing assistant, Annie wanted a position where she could call people and talk to them about health and wellness, and she found it at Juniper. "There are so many people who need encouragement and support and I provide it through this program. This work is important and knowing that I helped Janet through a difficult time is rewarding."
With Annie's guidance and encouragement, Janet is looking forward to taking an online Juniper class. "Because of my surgery, my heart is working well and I'm feeling better, so I'm ready to sign up for a class." Janet says she is also looking forward to spending more time with her grandchildren, Alana and Colt, whom she lovingly describes as, "God's gift for raising our kids."
If you are enrolled in a Blue Cross Blue Shield MSHO plan, ask your provider if you're eligible for the Telephone Reassurance Program.
For more information on Juniper classes, go to yourjuniper.org.