National Falls Prevention Awareness Week 2023
Falls Prevention Awareness Week (September 18-22, 2023) is an initiative that unites communities to tackle the challenge of preventing falls. It is a time for health care providers, caregivers, and communities around the country to learn about fall risk factors and create strategies to help people of all ages be stable and avoid falls.
See below for two webinar recordings hosted during Falls Prevention Awareness Week 2023, as well as information about falls prevention classes offered through Juniper. We hope you'll join us in the movement to prevent falls all year long!
Falls Prevention Webinars 2023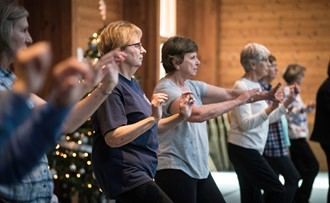 Kick-off to Falls Prevention Awareness Week
This exciting event aims to raise awareness about falls prevention and promote healthy aging. Whether you're a senior, caregiver, or simply interested in learning more, this online event is for you.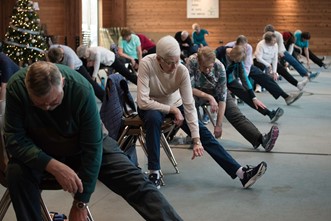 Protecting Yourself from a Fall: What You Don't Hear Could Harm You
Unfortunately, hearing loss is often associated with dementia– which may lead to an increased risk of falling. In conjunction with Falls Prevention Awareness Week, this no-cost program discusses the link between diminished hearing and cognitive decline. Presented by the Alzheimer's Association, Starkey and Juniper, you'll learn about how to reduce and prevent falls and the local resources available to you.
Join our Prevent Falls classes
Move your body
Bodies change as we age and may experience balance problems and loss of muscle
Moving your body can help prevent a fall
30 minutes of exercise a day is recommended
Break it into 10 to 15-minute blocks; it's the daily total that matters
Try an evidence-based program for fall prevention
Other Fall Prevention Tactics
Get your vision checked every year
Changes happen gradually, catch them before they become a problem
Check with your pharmacist for medication side-effects
Taking 4+ medications increases the chance of side effects
Take care of your feet
1 in 3 older adults experience foot pain
Some conditions can cause foot numbness